2. Which are the advantages of inter-organisational collaboration?
So, which are the goals and benefits of such collaborations in the innovation process?
Better understanding of the innovation purpose by combining different views, experiences, expertise and knowledge in the technology, process and/or market area
Increase know-how by interorganisational, organisational and individual learning from different sources, which operate in a similar problem or challenge domain
Increase the output of innovations by merging knowledge, creativity and forces (e.g., higher disruptiveness, merge different aspects or technologies, quicker development), by different views and by multi-disciplinarity.
Pooling of human resources, skills and abilities
Pooling of technological resources
Pooling of methodologies
Reduce time (of ideation, of prototype development, of final product development, time to market)
Find and use synergies
Reduce cost of innovation
Better decision-making because of shared information
Increase trust for stakeholders
This implies jointly defining a problem domain and from there developing joint goals which are expected to serve the stakeholders' individual interests. It is a development process where relationships are built, identities and interdependencies are explored, trust is developed, and a collaborative climate is jointly shaped. It occurs ideally without positional authority as the interorganizational system jointly defines and works towards the collaborative agenda and thus governs itself (while of course roles may be taken up, such as being a chairperson, but such roles always serve the common purpose and are jointly decided).
The interorganizational collaborative capacity is the capability of organizations and sets of organizations to enter into, develop, and sustain interorganizational systems in pursuit of collective outcomes.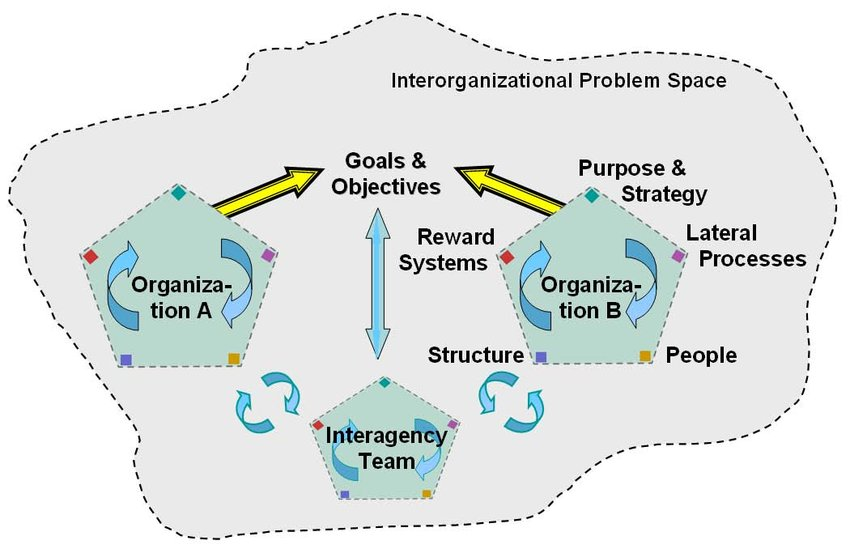 Source: https://www.researchgate.net/figure/The-Interorganizational-Collaborative-Capacity-Model-Hocevar-Thomas-Jansen-2006_fig3_235056664