3. Effective Virtual Communication
Now, in a business environment, effective virtual communication is the foundation. Owing to the rapid digitalization of the world and the sequelae of COVID-19, it is common for many companies to have remote employees. Organizations now tend to have offices all around the world, and if not, they are probably making business with at least another country. Because of this, it's important for employees to know how to have effective virtual communication practices, as it will assure the company will meet its goals.
Using the Right Technology
There are many technology options around that can employees communicate virtually. In addition to phone calls and emails, companies can use instant messaging platforms such as Skype that allows employees to quickly send messages and keep each other informed. There are also tools like Slack, that makes it easier to collaborate and organize projects or video conferencing tools like Zoom and GoToMeeting, which are known for its virtual face-to-face communication.
Although there are many options to choose from, it's significant that we to choose the most suitable technology for each task. For instance, there's no need to make video conference to ask a simple question, as it would be more suitable to just send an instant message. Similarly, JIRA is platform for project management that allows you to track project updates, so they don't get lost in your inbox.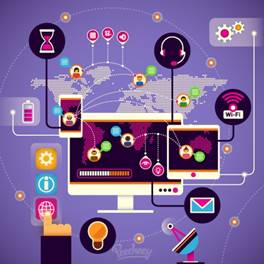 Source: https://all-free-download.com/free-vector/download/communication-technologies-concept_6813980.html (Photo by Peecheey)
Be Fully Present in Virtual Communication
Multitasking at work it's very important to maintain productive, but it can diminish quality and be prone to distraction. Because of this, employees need to be actively focused and minimize distractions when chatting. One way is by confronting the impulse to check emails or text a friend when having a virtual meeting or updating teammates. As well, co-workers are most likely not going to be in the same physical location, so it's crucial to make sure that all communication stays focused, accurate, and clear.
State Goals, Intentions and Results
Just like in-person communication, virtual communication can go off-course. So, for the sake of everyone's time, the goals, intentions, and outline of the specific results should be communicated. Virtual meetings should be handled in the same manner of preparedness as in face-to-face meetings. If you host the meeting, draft an agenda and send it out to attendees in advance so they can prepare. Or if you're instead attending the meeting, check the agenda and put together your contribution.
For text-based communication, such as emails and messages, be sure to reply to the sender that you have read the message. A simple "thanks for the update" when you have received a message, might be just what your co-worker needs.
Keep Teams Updated
Effective virtual communication requires trustworthiness and responsiveness. Since body language and tone of voice can lose sense of direction in some types of virtual communication, it's good know about what the receiver can and can't determine from your message. For instance, let's say a Slack message has unsettled you, well you should tell them because most likely the sender didn't realize as he or she can't see your manner or hear your voice.
Furthermore, when updating teams, you need to be accessible during business hours to respond to your co-workers in a timely manner. Usually, remote teams handle time-sensitive issues, and they can't hang tight for hours for a response. Hence, you need to make sure to have all the virtual communication channels you use open on your computer frequently during working hours so you can get notices and answer on a case-by-case basis.