2. Networking Etiquette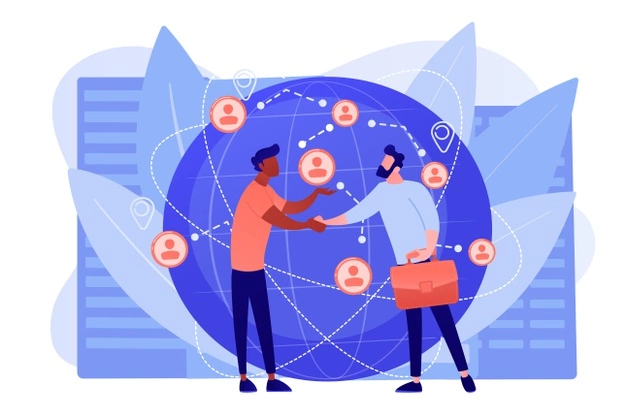 Source: https://www.freepik.com/free-vector/successful-partnership-negotiation-partners-handshaking_11669283.htm#page=1&position=4&from_view=detail#&position=4&from_view=detail
Cultural awareness is connected with a networking etiquette. With it you will be prepared to network with other cultures. But there is not only one etiquette. Each culture was its own etiquette. Of course, there are similarities and used are both verbal (spoken) and non-verbal (written, body language, gestures) communication. However, the way we speak, write and move varies by language, country, culture and sometimes even region. Unawareness of even small but crucial differences (you do not have to know everything) will result in the way you network among other cultures.
Which aspects should you pay the most attention to in a networking etiquette?
Space
This aspect will either build a comfortable or uncomfortable atmosphere and can be a key factor impacting the decisiveness. Considered should be business and personal space, as well as the environment either public or private.
Jargon & Slang
Although business is governed by its rules and jargon will be familiar to those in the business, when it comes to slang, a person from another culture may have difficulties in following the message. The choice of words can result in reverse actions, especially when the listener or participant to the conversation doesn't interrupt in order to show respect.
Exchange of contacts
This aspect concerns the exchange of business cards or other contact details, and the way, as well as when it happens, is also a cultural thing. It can impact the meeting atmosphere and creditability for your participation in networking, for instance you should avoid hiding the business card in your pocket.
More information about networking, tools, strategies and recommendations, is available in the Module 5.