2. Networking tools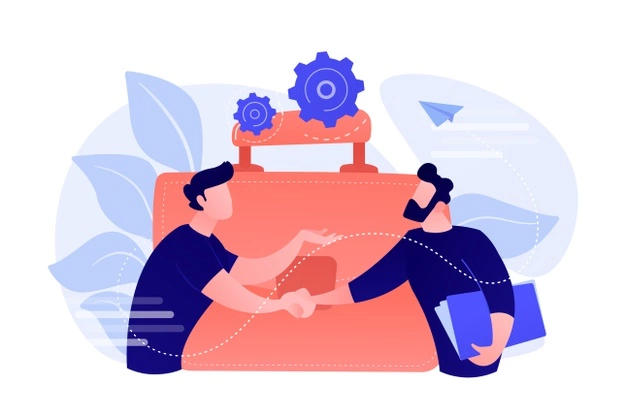 Source: https://www.freepik.com/free-vector/two-business-partners-shaking-hands-big-briefcase-partnership-agreement-cooperation-deal-completed-concept-white-background_11667104.htm#page=1&position=4&from_view=detail#query=business%20meeting&position=4&from_view=detail
Business cards are one of the first things that come to mind when you think about networking tools. They will only come in handy while face-to-face meetings and especially conferences. Sometimes a handshake is as important as the exchange of business cards.
While online, you can decide to send a virtual business card, i.e., an electronic format of the paper business card, which you can share on a smartphone. The electronic ones make it more convenient to store data and share it across wider networks of contact. Web browsers offer a choice of extensions for virtual business cards.
Source: https://www.freepik.com/free-vector/online-concept-illustration_7769789.htm#page=1&query=networking&position=42&from_view=search
Other than social media networks are virtual tools for networking, as well as an electronical mailbox or blogs (becoming more popular). An email signature with your full name and contact number or even a LinkedIn URL will encourage your receipts to "investigate" and "invest in" you as their long-term contact. And your social media profile(s) kept professional will impact the first impression you make online.