Misconceptions of cultures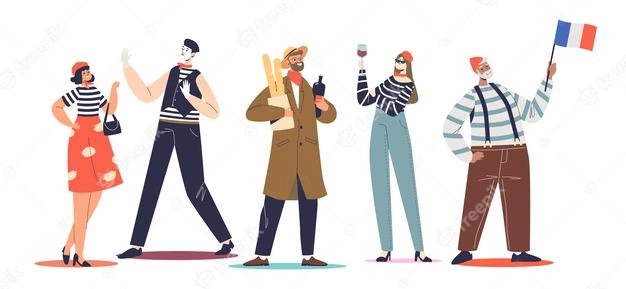 Source: https://www.freepik.com/premium-vector/typical-french-people-set-mimes-women-berets-holding-baguettes-red-wine-group-cartoons-wearing-france-traditional-clothes-paris-stereotypes-concept-flat-vector-illustration_18878969.htm#page=1&query=stereotype&position=23&from_view=search
Understanding the world around you, is what cultural awareness is all about.
The way you learn about the cultures of others is up to you, – ok, also the way you speak about them, but not exactly what you say. You should be confident and only pass on information that is true about these cultures. Otherwise, you will be spreading your own opinion, impression or idea of a culture, and not the truth. You should avoid stereotyping, mocking and respect taboo, customs and of course the law.
Stereotyping is prejudicing. A stereotype means a belief or assumption that is based on impressions or the opinion of a person, thing, group or situation, which is either partially true for untrue. If you are stereotyping a culture, it means you are assuming that people from that culture are behaving in a specific way without confirming this information.
Mocking a culture is also an irresponsible attitude, an insensitive way of commenting in an ironic way. It differs from stereotyping by conscious behaviour of the mocker.
Stereotyping and mocking should not be confused with taboo (=certain behaviours that a culture forbids), customs (= socially approved behaviours), norms (= rules agreed by the members of a culture) and law (=formal rules).
Examples include: wearing shorts to work may be offensive in some cultures, but not against the law; keeping eye contact during a conservation may show respect in some cultures, while in others it is the opposite.
Watch the video to find out more about cultural stereotypes.
Source: https://www.youtube.com/watch?v=SnpHtziXYss&t=7s
Summary of information from the video.
People create simplistic concepts to behaviours or traits since they do not want to analyse each difference, thing, person or situation individually, but base their conviction on quick observation, i.e., that Italians are more emotional than Germans. However, such stereotyping should not determine the way we approach and build relationships with others. It is therefore essential to analyse cultural profiles of individuals to only then draw conclusions about overall behaviours of a culture. You may end up concluding that it is just that the Italian are emotional, while the Germans are efficient – but similarly as many other people from different cultures around the world. It is advised to look for positive sides rather than negative sides, or judge a cultural behaviour or trait as neither good nor bad. Cultures are just different and you should be able to identify your own preferences and tendencies towards what you accept or what is unreasonable to expect from other cultures. You should also show sensitiveness and recognize the impact of stereotypes on own judgements.