4. Executing an Effective Presentation
Verbal communication has its different aspects that make each technique and skill unique, but when we focus on having an effective presentation there are some particular things we need to conquer. For example, as mentioned earlier, non-verbal communication is crucial to build a connection with any audience. Looking people in the eye, moving your hands and body to keep enthusiasm, smiling, and nodding will give off confidence, enthusiasm, and credibility to your message. A common mistake is that some presenters tend to turn their back to their audience to look at the material they are presenting. This posture might seem natural but creates distance between the speaker and the audience. One way to fix this is by taking the "weather reporter" approach, where you stand alongside the material and face your audience as you address the issue, bringing the right attention.
The way you use your voice and movement can be as important or even more than body language. If the speaker's voice is monotone, lacks change in their pitch, and stays in one standing place, its guaranteed that the audience is going to dose off and start daydreaming no matter how interesting your topic is. The volume and intonation of your voice should be used deliberately to highlight and help you make your points and captivate and stimulate your audience. The same goes for body movements. When you move from one place to another, it makes the audience readjust their eyes and focus, as well as their heads, keeping them active. But keep in mind that exaggerated or constant movements can be distracting and make you seem anxious.
Another crucial aspect to having an effective presentation is the right use of backing materials. Nowadays, presenters have a reach to a vast collection of sounds, images, video clips, and graphics that can be used individually or combined to their advantage. Sadly, most speakers fail to properly use it for their benefit. Instead of adding each feature or element at the right moment for the right effect, presenters might add them in a purposeless way. As well, their presentation may be there to mainly to keep the speaker informed of the topic instead of meeting the informational needs of the audience. Top practices advise that presenters choose materials that supporting their interpersonal styles, reassures their major points of view, and presents and supports their oral message at the right moment.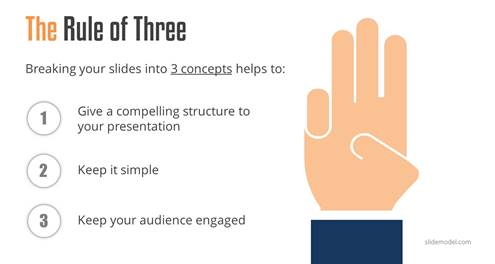 Source: https://slidemodel.com/23-powerpoint-presentation-tips-creating-engaging-interactive-presentations/ (Photo by Slide Model)
And lastly, it is important consider flow and timing. Flow means the order in which points are presented, the ease with which transitions are done, and the skill to open and close talks so that audience impact is amplified. Some speakers like to start with a punch and end lightly, while others like to build the anticipation and end on a climactic point. Then we have timing, which plays part in that information needs to be disclosed when the audience is ready to receive it. Hence, material that is difficult to understand should be revealed after the proper framework is presentenced, and controversial information should be revealed once trust has been set with the audience. And, presentations should begin and end as scheduled to avoid audience agitation.