2. Personal growth goals
The purpose of personal growth goals is to improve a particular aspect of your character or abilities. Either short or long-term, such goals need to be realistic roadmaps for how you plan to achieve specific objectives. They enhance the person that you are and make your candidate profile more impressive to employers. Creating plans and goals for self-improvement in your personal life positively impacts your career trajectory and overall professional success.
There are many goals you could set to begin a personal development plan. Consider choosing one of these common personal development goals: Improve your time management. Develop emotional intelligence. Cultivate resilience. Listen actively. Develop a growth mind-set. Develop a reading habit. Learn new things. Improve your public speaking skills.
To get started with personal development, you should create a plan with actionable steps. These steps will help you measure your improvement and keep you focused on your target. Personal growth goals are important because they can lead to career advancement. Here are a few benefits of setting personal development goals for your career.
Clear sense of direction
When you have clearly articulated goals, you can complete tasks with a strong sense of direction and a better focus. You will have a list of priorities that inform when to approach each task, how much time to dedicate to them and how often to delegate. Personal development goals help you eliminate distractions because you understand the importance of what you have to do.
Improved work ethic
Setting goals for yourself ensures that you approach tasks with dedication. Your vision of achieving those goals should be a solid motivation that fuels you on each assignment you attempt.
Better workplace relationships
A commitment to personal development can often help you maintain positive relationships with your co-workers. As you improve yourself, the value of good relationships can become clear and you may become a role model for other employees.
Increased productivity
Ultimately, personal development will increase your output in the workplace. Expect greater efficiency, increased productivity and improved results as you meet each of your goals
Source: How to Set Personal Development Goals for Work (with Examples) | Indeed.com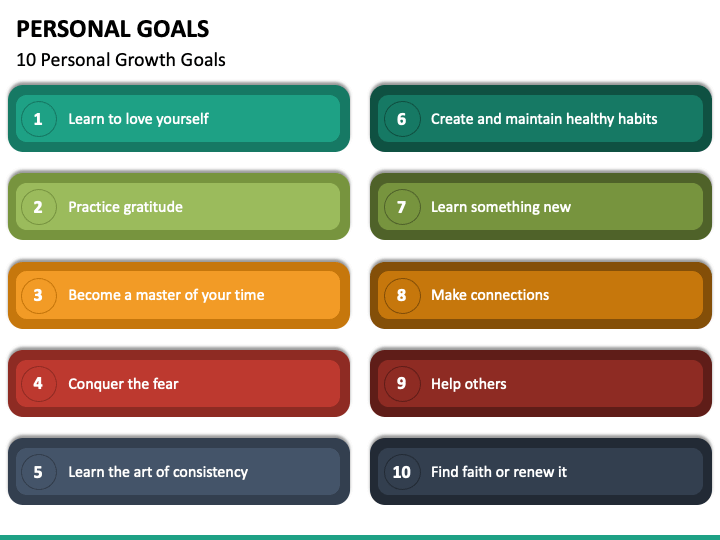 Source: https://cdn.sketchbubble.com/pub/media/catalog/product/optimized1/d/9/d9bdd0d7dc3f20dd8d8ba025452d0e4e85698b418dc3904217523f8fbc61aa9b/personal-goals-mc-slide3.png